This would probably be a tough choice for many as our beauty collection keeps growing as time goes on. It was rather a piece of cake for me because I am very loyal to my good products. If a product works well for me, then be rest assured imma marry it for life because I am that loyal lol. I have used these products for years and I a'int divorcing them any time soon. At this point I am so accustomed to them that I feel like my skin would be heartbroken if i should ever stop using any of these products. Anyways let me get straight into sharing with you what these products are.
Clinique rinse-off foaming cleanser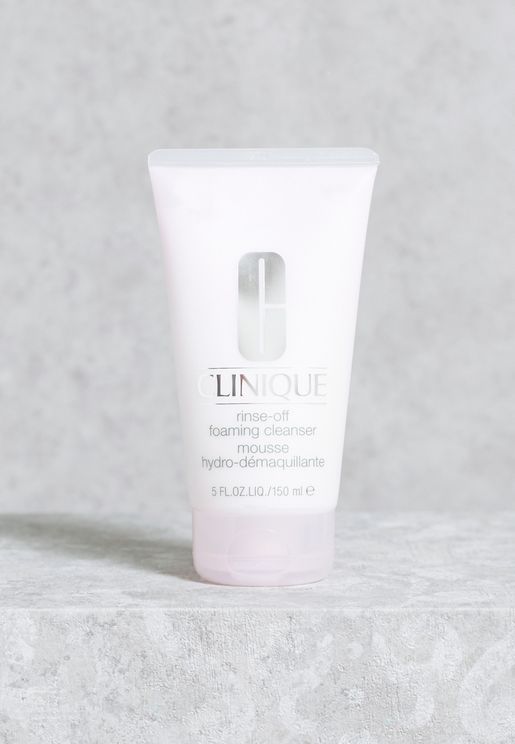 If I remember quite well i found out about this product from Amber Rose during one of her radio interviews when asked how she keeps her skin well and she sang praises of this product.  I looked it up and it was pretty much affordable so I decided to try it out and it was most definitely one of the best choices i have made for my skin. This product has been part of my skin care routine for over 5 years now and it is going nowhere unless Clinique decides to discontinue this product. If you wear makeup then i recommend this product for you.  It literally washes off all your makeup and dirt without you needing to pre clean ur face with wipes or whatever.  You will thank me later.
2. Clean and clear exfoliating daily wash.
Exfoliating  is an absolute necessity for me. The process removes all dead cells and allows new cell growth and it helps to prevent black heads.  Again this is one of the products that i have been using for years and it works really well for my skin. My skin can be quite sensitive to new products so i try to stick with products that works for me as much as possible.
3. Pore cleansing dual brush
This cleansing brush is the latest addition to my collection and i am loving it. You do not really need an expensive one. I bough mine for not more than €5 and it works really well.
To cleanse,  I wet the  brush head with water and add a small amount of Clean and clear exfoliating daily wash
I Gently massage onto my damp  face in a circular motion
And then I exfoliate, using the silicone brush to massage the T-zone and face as desired
4. Eversheen Cocoa butter Creme
Eversheen cocoa butter and i have had an on and off relationship over the years but our love for each other is just too strong . We are unbreakable! lol. If you are an african then you must know this product.  Finding the original ones to buy here in Europe is such a hustle so i've always had to buy them in bulk from Ghana because i have totally giving up on purchasing them here. I have been using this product long enough to  recognise the smell of the original ones from the fake ones. And trust me the ones they sell at the Indian cosmetic shops just a'int it. Even some African shops here in Europe aren't doing us justice either. But i totally love this product. There is something about the smell that just makes me feel so refreshed and as innocent as a child if that makes any sense.  haha!
5. Vaseline lip therapy
Whenever i feel like my lips need some Tlc, i usually reach out to this product to moisturise my lips especially during the winter periods.
Are your familiar with any of these products or are you curious to try out any of these products?  Please me know in the comment section. Thank you so much for stopping by!